BSC Holdings is getting ready to develop Phase 2 of its Lofts at Little Creek community off of Hanes Mall Blvd in Winston-Salem: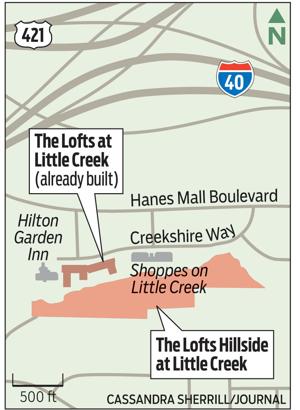 The name of BSC Holding's new $10 million project, which is expected to be ready for renters in spring 2016, is The Lofts Hillside at Little Creek. The initial 148,000-square-foot building will have 88 apartments, offering primarily two-bedroom units with two baths and office space. It will have several units with one bedroom and 1 ½ baths.
"It will be the same architecture and same finishes as the Lofts at Little Creek," said Amanda Williams, the vice president for BSC Holdings, which is based in Greensboro.
The two-bedroom units will range from 1,200 to 1,400 square feet. The one-bedroom units will be 925 square feet.
Amenities will include nature trails and a large dog park, and an additional pool and fitness center. Monthly rent will run from $950 to $1,450.